home /
For 60 years we have been finding solutions for processing polyurethane and foam materials
Our decades of experience in manufacturing and processing of polyurethanes, and our constant widespread techical support, allow us to cooperate with customers worldwide, starting from the design up to the installation and starting-up of our machines.
In order to provide the best quality and competitive prices at the same time, we purchase raw materials which are processed and assembled in our factory, where every processing phase is carefully performed.
Vertical
Horizontal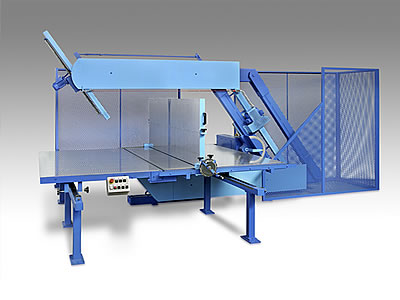 Special
Specialists in production of belt-driven blade cutting machines
We are specialized in production of belt-driven blade cutting machines. We offer a wide range of machines equipped with other tools for the manufacturing and processing of flexible, foam and stiff polyurethane, even high-density items such as cutters, circular blades,
abrasive wire.
Also, we take care of the handling of the final product by using conveyor belts, vacuum manipulators, or custom-made structures specifically designed according to customer's needs.
Application fields
The machines from our production can be used in several different sectors: production of upholstery supplies, latex, polyurethane or visco-elastic foam, mattresses, cushions for marine sector, items for home cleaning and personal hygiene, abrasive fibres, polyurethane packagings, bubble-wrap cellophane or various types of grinded materials, rigid panels for cold room insulation or for the building sector, high-density semi-finished products for modelling, coupled metal sheet panels for roofs and floors, grinded material for filling, waste recycling through production of agglomerates.